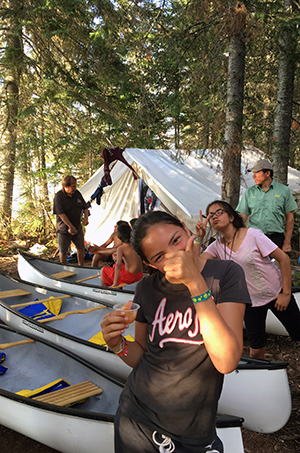 Wilderness Camp

Youth Engagement Fund
For five years now, David Cheechoo has been running a youth wilderness camp alongside his wife – Greta Wiskychan Cheechoo - as they continue their commitment to the youth of the Cree Nation. Together with experienced staff, they bring interested youth out onto the land where they can be comfortable and concentrate in a natural, traditional setting, and benefit from this kind of traditional connection. "The wilderness is the best platform for youth to prepare for their life journey," says David, "the land helps them to receive the knowledge and wisdom they need to go forward."
Originally from Moose Factory, Ontario, David left home in his early teens for school in Saskatchewan. He holds a degree in Administration and Leadership, has worked in band administration for 14 years, and sits on the national board for the Rising Above abuse counselling agency. With his life focused on leadership and administration, David now works at the Cree Health Board in social services. Since 1999, he has developed approximately 20 youth programs for the Cree Nation, with many ongoing. Aboriginal/First Nation's based, these original programs strive to meet the needs of today's Cree youth.
David and Greta - who holds a Master's Degree in counselling and arts - lead the camp along with elders, counsellors, and other trained staff. With the objective of teaching and embracing Cree culture, a variety of activities are held within the community and on the land over 10 days where youth are encouraged to find healing through tradition.
Through a combination of fun and traditional activities, David, Greta, and their trained colleagues teach the youth paddling, portage, and target shooting. Other events include fishing, net setting, a bannock cooking competition, and a scavenger hunt to identify traditional plants and berries. Elders teach through oral stories, sharing about life in the past. Survival skills are also taught such as splint and stretcher making with trees and roots, shelter building, making fire without matches, and snare making. David follows the program up with after care to check in with the youth and maintain a connection.
Every evening of the Wilderness Camp, traditional food such as moose, fish, and goose is served with preparation help from youth. After a traditional Cree meal, evenings culminate with Words of Encouragement where staff or invited speakers offer stories and guidance about overcoming obstacles, bullying, the dangers of alcohol and drugs, and more. David has found that guiding through personal stories to be effective in inspiring the youth to make better choices.
This year the Wilderness Camp will hire two youth workers to learn and assist in the teachings and hands on activities. Qualities and skills of young people become apparent over the course of the camp, from year to year, and so inviting them to teach their peers is a natural process and part of exposing them to leadership skills as well as recognizing them for their value in the community. Participating youth have so far only been from Waskaganish, but now David and Greta are looking at making it a regional camp, to bring youth together from a variety of communities to share in this collective experience.
David appreciates the Youth Engagement funding the camp received and plans on building upon and improving what his camp offers so that he can continue supporting the kids with his programs. The youth and community both have expressed their support for the program and keen desire for the camp to be held every year. "Every week, kids or parents come up to ask us about the Wilderness camp," says David. "Parents are ready to help their kids start planning for the next journey."
What keeps Dave and his wife going? The commitment made by youth during and after the camp, and the youth who have found this camp to provide much needed hope.