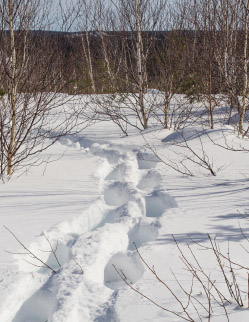 Waskaganish Adult Mobile Treatment Program
Corrections Fund
Kenneth Weistche, his wife and his staff know it all too well, and they know both sides. Luckily, they are all sober, or in recovery, and many are graduates of the mobile treatment program. They understand the approach, the context and they want to give back and help their peers heal, in a Cree fashion.
Many treatment programs exist in the South, some even have aboriginal components, but their success rate is low. The Waskaganish Mobile Treatment Program is the only one located in the Cree territory, land based or out in the bush, with programming in Cree language, which incorporates Cree traditions, and relies on mentoring by Cree Elders. Kenneth's mobile treatment project aims to address the issue of people who are not comfortable in English or in French, and who do not want to go South in residence to get treatment. This is why all staff are Cree, all programming is in Cree, on the land, and Elders play a very central role.
Kenneth has worked in this field for a long time, with a background in social work and aboriginal issues. The treatment program, which is in high demand, has existed for 20 years. However, its financing has been, over the years, a real headache, despite its proven track record. Last year, the project being a great fit, the Corrections Fund ensured that Kenneth and his team could work, out in the bush, helping Crees recover from addiction.
The project had a regional scope – candidates applied from all across Eeyou Estchee. Of the 60 applicants, 21 people entered the program and went in the bush for 5 weeks. And all 21 participants stayed the full 5 weeks, making the initiative a big success.
Substance abuse remains a challenge in the Cree communities, as, according to Kenneth, the vast majority of all court cases are drug and alcohol related. As he mentions, addiction is only a symptom. The root causes lie much deeper and are complex, such as residential schools, intergenerational trauma, and loss of connection with identity and culture.
As Cree traditions and experience are unique, programming designed and run by Crees is more effective. Not only does it use the 12 steps, which are quite common in substance abuse treatment, the program also incorporates the four quadrants of the medicine wheel, to truly root it in Cree ways. The program being more flexible, adjustments are possible to address needs of the group, for example by incorporating parenting or other specific workshops.
Furthermore, in support of the trained counsellors, Elders hold a special role in sharing circles and in leading different workshops related to cultural identity, creating bonds with participants and sharing Cree culture and ways of life. They also provide support and encouragement. All this makes the program even more unique.
When asked about his biggest success, Kenneth answers without hesitation the 100% success rate, with 21 participants staying and graduating from the program. He mentions however that these 5 weeks spent in the bush are only the beginning of a long journey to recovery. The participants then need to be active, work hard and find help within the community. So far, communities have responded by helping participants develop aftercare groups and support groups. All want hope and healing.
Kenneth's involvement also has an important ripple effect at the community level. People returning to the community after the mobile treatment program bring with them hope. As other individuals in the community who are suffering see recovery, they feel hope, and so does the family of the participants who come back after 5 weeks. Each person who participates in the treatment program can positively impact many more people in the community. Many repeat offences in the Cree Nation are related to breaching conditions of parole, which almost always involves alcohol and addictions. A program that provides the tools and support to reduce the chance of a breach not only reduces the number of offences, it gives people a real opportunity to change their lives and the decisions they make.

What is the key to your success Kenneth? "Without doubt, loving the work!"