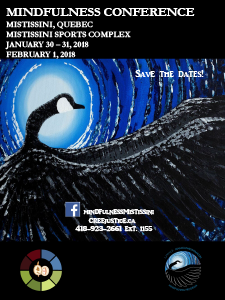 At the Mistissini Sports Complex from January 31 to February 2, the Mindfulness Conference hosted by the Department of Justice and Correctional Services brings us together to learn about how to be mindful of ourselves, our family, our community, and the world around us. Some terrific speakers are in Mistissini to explore and imagine how we can help those who we work with to take real every day steps to change their lives, and how we as support can do the same.
Mindfulness is about connecting with the now, your Identity, and Eeyou Istchee. Many of us remain stuck in the past - in trauma, in regret - or we are constantly thinking about the future - procrastinating making changes in our lives for some future date or event to happen.
When we are not in the present moment, we are inevitably wedged in a place where we are not living our true selves; always playing the "if only" game, instead of focusing on what is front in of us, appreciating what we have, and how that is linked to our purpose, our self. We are also not doing the small things today that will lead to changes in our lives, and help us achieve personal and professional objectives. Our clients often have experienced trauma or stigmatization of some sort, so how do we mobilize them to take steps to move beyond grief, hardship, anxiety or depression to move forward. To engage themselves daily in exercises to change their perspective, and lives.
The list of mindful presenters include:
Dr. Harry Stefanakis, Psychologist,
Dr. Rosy Khurana, Chief of Medical Services, Mistissini CMC in the Cree Health Board
Peter Norman Levesque, Executive Director, Canadian Centre for Excellence in Knowledge Management, University of Ottawa
Dr. Vern Redekop, St. Paul's University
Gayle Desmeules, Métis, International Institute for Restorative Practices, True Dialogue
Paul Racine, Doulos Ministries
Leah Parsons, Rehtaeh Parsons Society
Tara McGee, Team 1 Therapist/Team Leader, Work with youth with addictions and mental health issues, Pine River Institute
Amy Coupal, CEO, Curriculum Services Canada, Learnography & MyClassNeeds.ca Foundation
Losty Mamianskum, Department of Justice and Correctional Services
James Bobbish, ex-Chair at Cree Board of Health
Matthew Sherrard, Partner, Gowlings
For those who were not able to attend in person, they could join us via our livestream:
https://livestream.com/rupertstream/mindful
The conference presentations and recordings will also be posted on our website once edited. We are mindful that impacts can be made outside the conference as well.