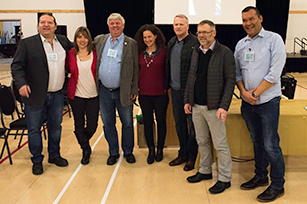 The Department of Justice and Correctional Services organized a three-day conference at the end of March for frontline workers who deal with youth in Eeyou Istchee to learn, network and reboot. There are always requests to attend conferences in their field of work to hear specific speakers. So, we thought we could instead bring together incredible keynote speakers so more people could benefit from their experience, expertise and innovative approaches for dealing with at-risk youth.

Social workers, community justice employees, youth protection workers, and educators all gathered at the Hear, Listen, Understand Conference. They listened to Charlie Applestein, Leah Parsons, Michael Neuts, Rick Shaw, Dr. Victoria Creighton, Dr. Michael Ungar, Shaun Loney, Nicole Charron and then Grand Chief Dr. Matthew Coon Come, who all offered thought-provoking and inspirational presentations. The speakers gave participants practical information, professional collaboration and a unique understanding of the complexities of youth intervention and social work in difficult environments. Nicole Charron from the Canadian Institute of Conflict Resolution ended the conference by lessons and exercises in Self-Care for frontline workers. It was about being healthy enough yourself to be an effective source of support for others.
"The conference provided an opportunity for front-line workers to enhance their skills and to hear from experts in their field," says Department Director Donald Nicholls. He added: "People from the school board, health board, local public health organizations and the Justice Department were working together in one room and were able to connect with each another."
The Department then took things a step further, broadcasting the conference through an online live stream hosted on the Grand Council website so that even more participants could benefit from the event. The Department produced as well an HD recording of the conference so people who missed it could simply go to the Grand Council's website to listen to the presentations.