The Department of Justice and Correctional Services (DOJCS) is directed by Donald Nicholls. The DOJCS comprises more than 60 professionals distributed at the head office in Mistissini, in the Val d'Or Regional Office of Correctional Services and in Justice Centres throughout all nine Cree communities.
We are especially proud that the vast majority of our staff are Cree people from Eeyou-Istchee. This ensures we are able to deliver services that are culturally appropriate and in the language of choice of our people.
As important, by attracting, employing, training and mentoring our own people in excellent jobs, we are building essential justice and correctional services capacity that future generations of Cree people will benefit from.
The Team in Detail
The DOJCS organization chart is shown below (click HERE for larger version that will open as a PDF in a separate window).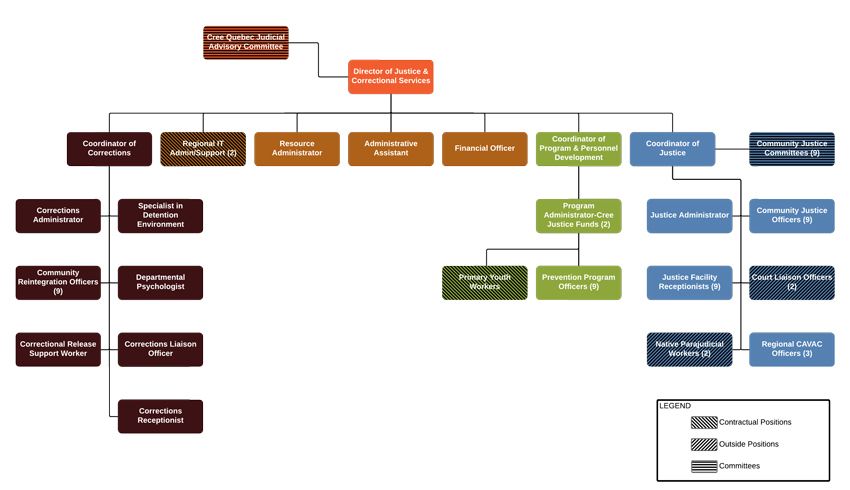 The following table provides key responsibilities of each position highlighted in the organizational chart:
DOJCS LEADERSHIP
Cree Quebec Judicial Advisory Committee
The Cree Quebec Judicial Advisory Committee is responsible for identifying needs and making recommendations concerning the priorities and strategies relating to the administration of justice for the Crees, including annual budget allocations. Established in 2007, the Committee consists of ten members, five representing the Crees of Eeyou Istchee and five representing the Province of Quebec. The Committee is led by a chairperson, who holds a term of two years. See Leadership for details.
Director of Justice & Correctional Services
The Director of Justice & Correctional Services takes direction from the Director General of the CNG and its senior management committee and receives recommendations from the Cree Quebec Judicial Advisory Committee. He is responsible for the strategic direction and efficient day-to-day operation of the Department. This includes budget setting, establishment of program and service priorities, policies and procedures, liaison with federal and provincial government partners and other CNG departments and entities, human resource management and employee development, among other things.